Pharmacists are Social Service Providers: Vice Chancellor Prof. G. Nageswararao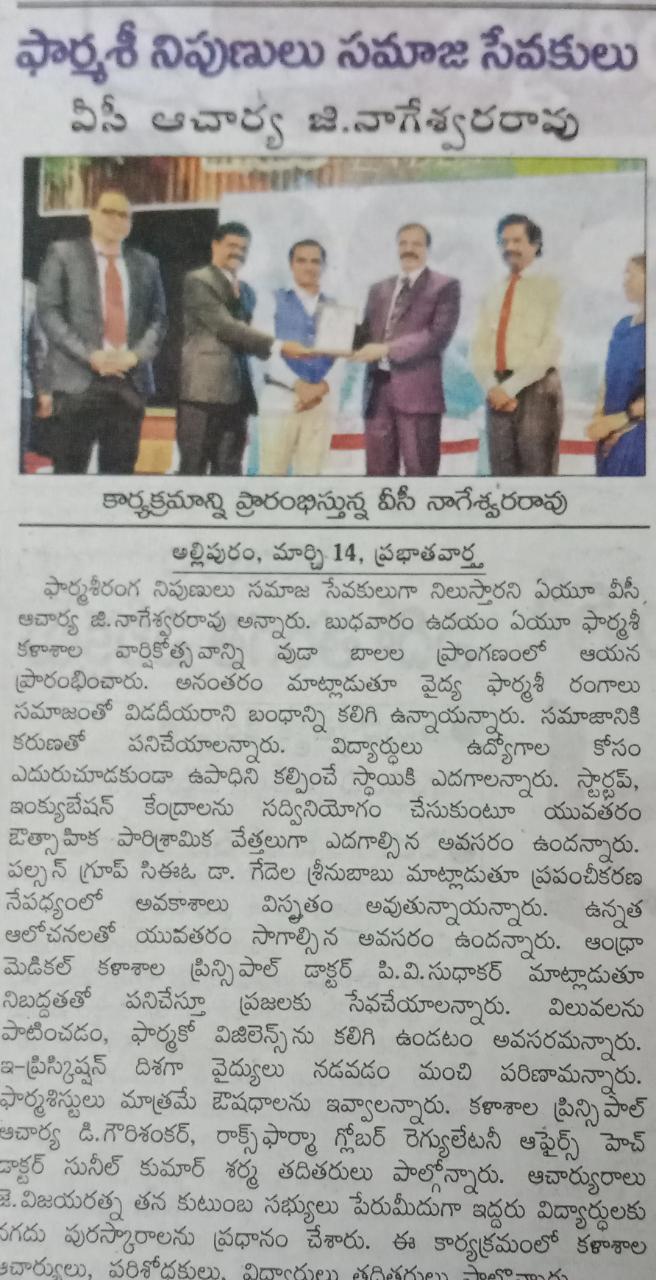 Allipuram March 14 Prabhata vaartha

"Pharmacists are rendering yeomen services to the society and Medical and pharmacy as interdisciplinary fields are extending immense benefits to the society"-observed the Vice Chancellor of Andhra University Prof. G. Nageswarrao. Speaking on the on the Andhra University Pharmacy college anniversary celebrations at the Vishakhapatnam Urban Development Authority (VUDA) children's auditorium, Prof. Nagesawarrao advised the graduating students to extend their services without profit motto. He called upon the students to emerge as employment creators with innovative startups by making the best use of incubation centers available in the university.

Speaking on this occasion the PULSUS CEO Dr. Srinubabu Gedela called upon the students to utilize all avenues that the globalization of technological innovations placing them at their disposal. "The youth should set great ideals and ambitions and try to achieve them as well" he continued.

Dr. P.V. Sudhakar, the Medical college principal of Andhra University has suggested the students to extend selfless services and emphasized the role of Pharmacovigilance in adhering to the ethics and to maintain quality in the medical care. He welcomed the doctor's gesture of practicing e-prescription and called upon the pharmacists to be vigilant against untrained and fake pharmacists that may dupe the society. The Pharmacy College Principal Prof. D Gowrishankar, Rocks Pharma Global Regulatory affairs head Dr. Sunil Kumar Sharma were also present on this occasion. Prof. J. Vijayaratna has extended two scholarships to the meritorious students in memory of her family members.Unversity faculty, staff and the students have participated in large numbers for this event.